It is the right business for a blogger to promote website hosting because

Web hosting

is a business that provides the technologies and services needed for the website.
GoDaddy
GoDaddy is no doubt, world's most popular and ever-growing domain registrar company. It lets users get a domain name of their choice as well as provides web hosting. GoDaddy has successfully been running the affiliate program for bloggers and publishers.
Since GoDaddy is the first destination for every online marketer to register their domain name. So it would be really a wise concept to promote their services on your blog and make money from sales.
Though GoDaddy closed it's direct affiliate program last June [2014] month yet you can join their affiliate program and promote their services by being affiliates of popular marketplaces like Commission Junction, ShareASale or Affiliate Window.
HostGator
Since it's establishment in 2002, HostGator has been world's leading web hosting service provider. The user base and customers of HostGator are ever increasing at a fast pace. HostGator has also an award-winning customer service due to which many of customer love to be a part of HostGator.
HostGator provides a great earning opportunity for its affiliates who promote their services through their efforts. The sales commission are very lucrative as you can earn up to $125 for each sale. That is why HostGator is among very popular affiliate programs for blogging niche blogs.
Bluehost
Bluehost was founded in 2003 and it claims to be one of the best web hosting service provider. Bluehost has a unique feature of money-back guarantee in which users can get their money back if not satisfied with their services. Also, an award-winning 24/7 customer support ensures that even non-techie people enjoy hosting without much problem.
Putting ice on the cake, they have affiliate programs for bloggers or web owners by dint of which you can earn up to $65 per referral. Bluehost affiliate program is proving to be one of the best affiliate programs for blogging niche blogs nowadays.
DreamHost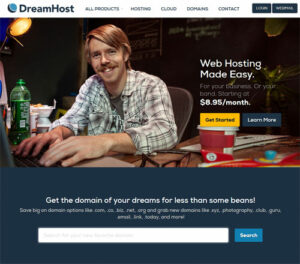 DreamHost is a reliable hosting service since it's establishment in 1997. It offers great web hosting services but at the same time, it provides you an opportunity to make unlimited earning through its affiliate program. You can earn up to $97 for every sale that you make but one of the unique features is that you earn $5 for each sub-referrals too.
In other words, if you refer 5 persons and each referred by you, refer 5 persons then you will make a total of $ 97 x 5 = $ 485 + ($ 5 x 25= $ 125) = $ 610. Wow! Isn't it surprising?